Emerald Spring Equestrian Center Mares
We pride ourselves in the quality of the mares that reside at Emerald Spring!
This is Ragazzi, by Rouletto, out of States Premium Gera, by Akzent II. RIP, Beautiful Mare. We were forced to let her go Mid-December, 2019, after a brief illness. Her cushings compromised immune system couldn't fight off the infection. She will be deeply and profoundly missed...
Ragazzi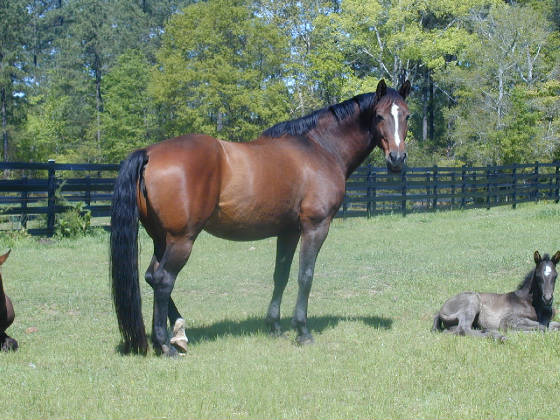 Rouletto x Akzent II
Ragazzi, by Rouletto x Akzent II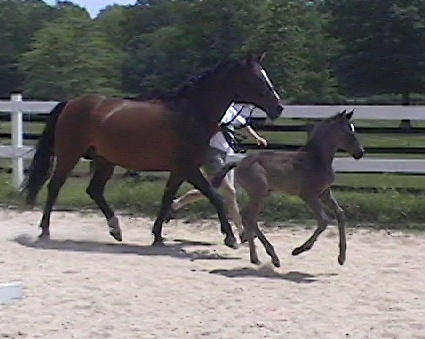 Shown with her 3 week old De Laurentis colt
De Laurentis x Ragazzi
Dark knight at 2 months
MS Destination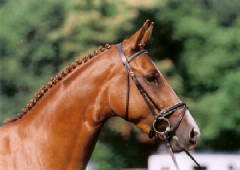 Donnerschall x Wilhelm Tell I
"Liberty Dream"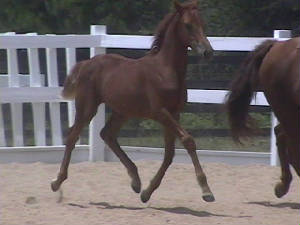 Liberty Gold x MS Destination
MS Destination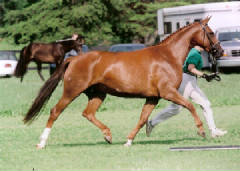 Donnerschall x Wilhelm Tell I
Lucia ESE, Liberty Gold x MS Destination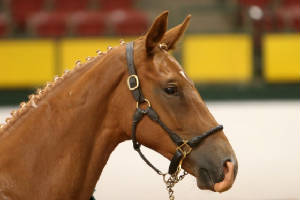 Hanoverian IBC Winner, Raleigh
Freya ESE, by Fabuleaux x Donna
Lucia ESE & Liberty Dream ESE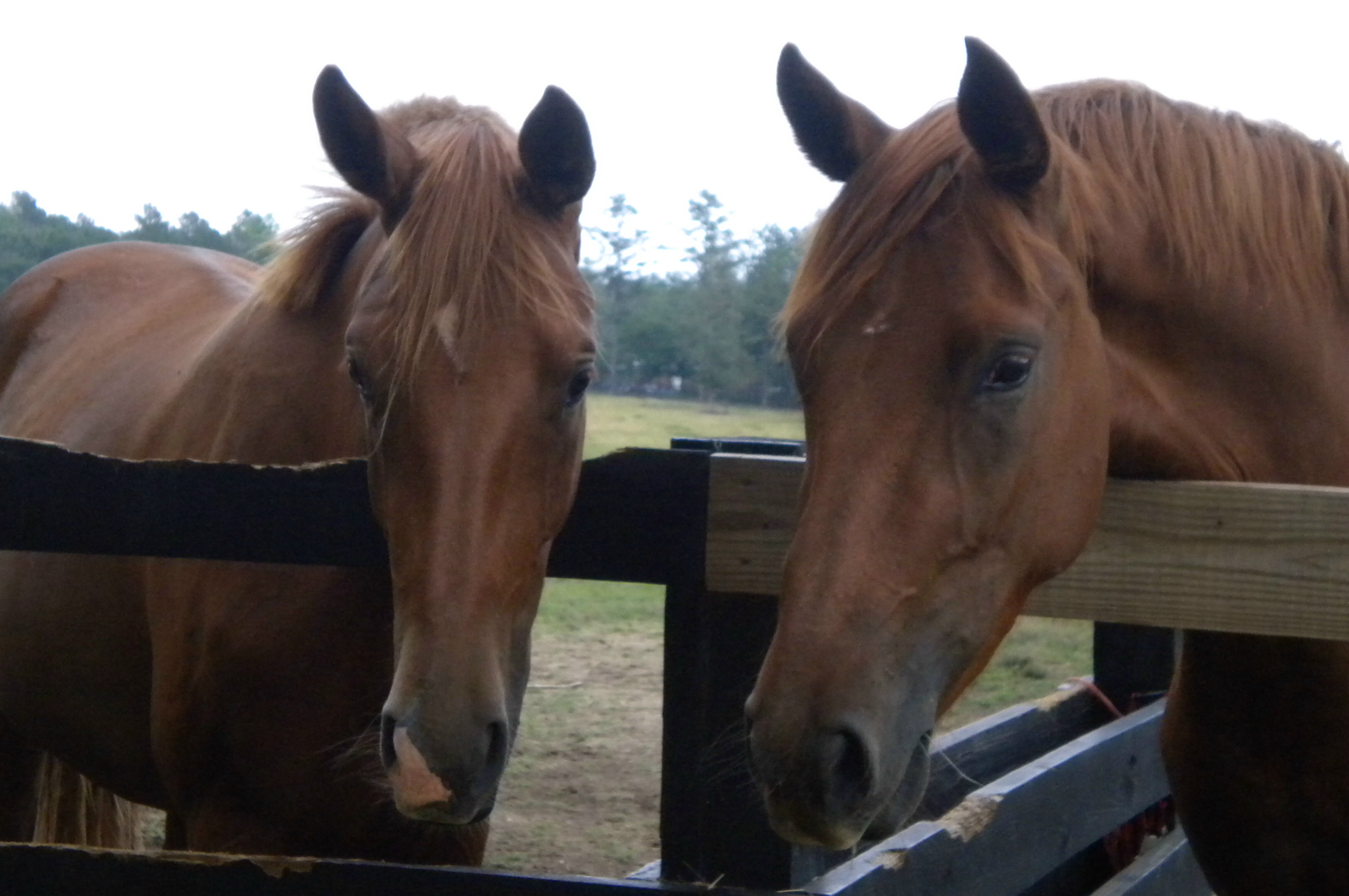 Both by Liberty Gold x MS Destination (Donna)
MS Destination (
Donnerschall
x Wilhelm Tell I) had outstanding 2006 and 2007 filllies by Liberty Gold. Liberty Dream, the 2006 model, can be seen on our
sales page
. "Liberty Dream" is an absolutely outstanding individual with fabulous movement, and a temperament to drool over! "Donna's"
fantastic
filly May 20th, 2007 by
Liberty Gold
(Londonderry x Weltmeyer) will be kept as a replacement for Daybreak, who will retire in 2008.
"Donna" is had an absolutely beautiful filly by
Fabuleaux
(Fabriano x Augustinius xx) in 2008 . See her
sales page
for more info!! Her 2010 Welcome colt is fantastic, as well. For more information on "Worth It ESE,"
visit here
Worth It is a very large colt, and since he was born so late, we decided to leaeve Donna open for 2010. She is being bred to Wolkentanz II in 2011, and we are looking forward to this cross!!
Lucia ESE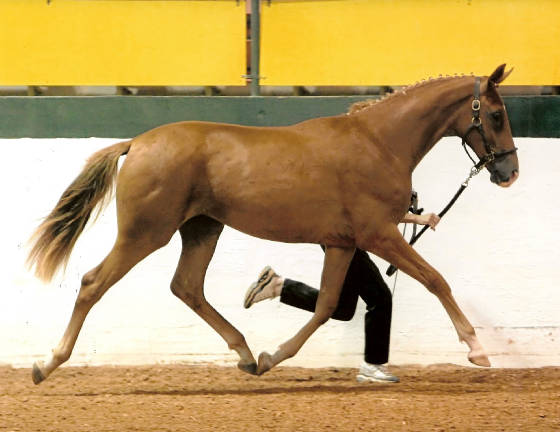 Liberty Gold x Donnerschall
The Newest addition to our broodmare band is Lucia ESE, by Liberty Gold, out of MS Destination (Donnerschall x Wilhelm Tell II.) Lucia earned a 7.16 at her studbook inspection to become Elite Eligible with the American Hanoverian Society. We will be preparing her for her Mare Performance Test in 2011, and she will be bred to Benidetto for her 2012 foal.
Daybreak, by Dederick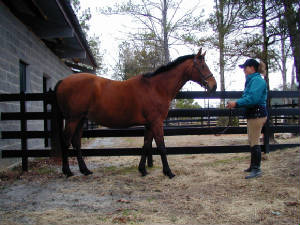 Photo taken 2/23/05 due to foal 4/15/05
Bergamon x Daybreak '08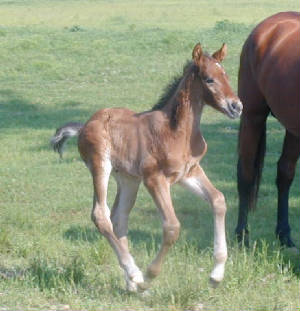 This is a real prize!
By Dederick (by Duft II), out of Elegant Miss, by Boston Baker XX (by Bolero)
Barn name: Daylee
Daylee is an American Hanoverian mare that has produced two BWP National Yearling Futurity Grand Champions in the 1996 mare "Tigris" and the 2002 mare "Catalina Beauty." Catalina Beauty is one of the first mares in the United States earning the prestigious "Elite Preferred" status with the Belgian Warmblood Breeding Association.
News Flash!!! Her daughter "Danika," also earned her first E-label designation at the 2006 BWP keuring in South Carolina!! She will be re-presented in 2007 for her second E-label score, and performance tested for her Elite Preferred status with BWP-NAD, Inc.!!
She produces very elegant, sweet offspring, with beautiful jumping form and correct movement.
Daylee had a drop-dead gorgeous filly, pictured at right, by Flemmingh in 2006, which is available for sale. Bella finished Number 2 in Zone 4 in the Two Year Old Hunter Breeding Division.
Her Liberty Gold (Londonderry x Weltmeyer filly of 2007 sold at ten days old!!!
Her 2008 colt by Bergamon ( Baryshnikov x Pik Koenig) for 2008 has been sold!!!. This should be a very interesting cross with dual purpose talent for both Dressage and Jumping! Daybreak has been retired, and is living out her life at ESEC!
Aleksei, by Nicholas, out of Daybreak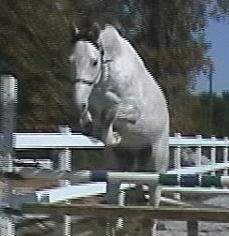 Tigris, by Nicholas, out of Daybreak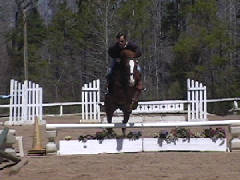 TIGRIS Tigris is a 1996 mare by Nicholas, out of Daybreak, by Dederick. She was the 2007 BWP National Yearling futurity Grand Champion for the entire US. After several years as a broodmare and pasture ornament, Tigris has started her career in dressage. So far, she has scored in the upper 60's in every test at Training Level (two first's, one second and a fifth!), with a 75+% in a First Level Musical Freestyle Pas de Deux at a Christmas show in 2006.
She has had one foal by Morocco, who is doing well in Pony Club and the Hunter Ring, and a fantastic 2006 filly by Flemmingh is still available on our Sales page. Tigris had a fantastic colt by Escudo II in 2008. He scored 84 points at the South Carolina BWP Keuring, was the Champion Foal at the keuring, and finished with the Third Highest Score in the USA! See him on our sales page HERE. We have repeated this cross for 2009, and the resulting foal should be MOST INTERESTING!!!! Contact me at emeraldspring@sc.rr.com for more information.
Tigger foaled a BIG, beautiful colt by Escudo II on May 14, 2009. he is a very sweet and athletic young boy.
she is rebred to Escudo II for 2010. Edgar promised me a filly!!
Tigris, March 2008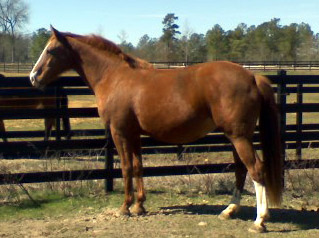 Three weeks before foaling to Escudo II
2006 filly by Flemmingh x Tigris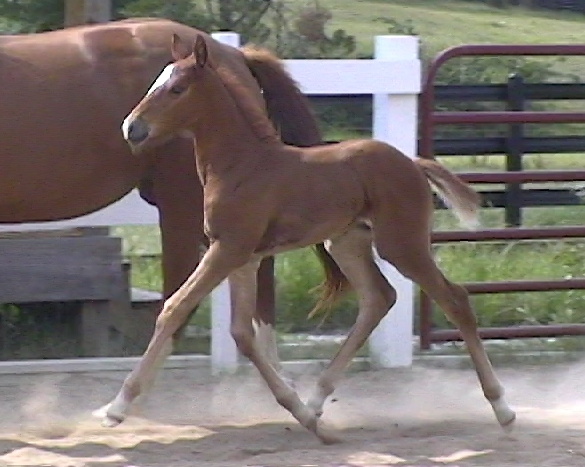 Escudo II x Tigris 2008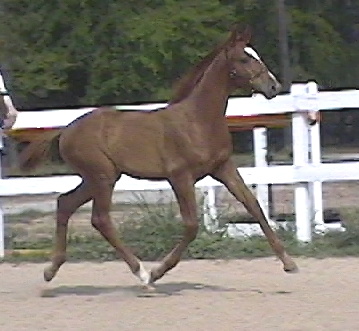 We have rebred her to Escudo for '09