A limitted amount of Frozen Semen is Available to select mares only
Nicholas was a very modern style warmblood with elegant movement, tremendous athletic ability, and a fantastic disposition. He competed successfully in Dressage through second level, and went on from there to pursue a very successful jumping career. He has won many Championships and year end awards.
Jumping:
PHR Junior Jumper year End Award in South Carolina in both 1998 and 1999.
BWP Bronze, Silver, and Gold Lifetime Achievement Awards in Jumping
Top 25 USGPL in Jumior Jumpers in 1999
Qualified and competed in the Washington Internationl Horse Show against the top 30 Junior Jumpers in the U.S. in 1999
Awarded the AWS Horse of the Year Title in Jumping in 1999
Numerous Champion and Reserve Championships in Junior Jumpers 1998-1999
Wins and top placings in Open Speed and Mini-Grands Prix 1997-1999
Dressage:
USDF BWP First Place at First Level, 1997
Reserve Champion Under Saddle at Raleigh Breed Show in 1997
Scores into the upper 60's at Second Level
BWP Bronze Lifetime Achievement Award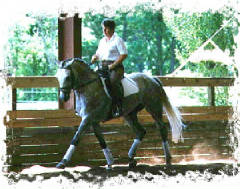 <German Bereiter Claudia Garner Riding Nicholas, Spring 1997
His Offspring:
A very limitted amount of frozen semen is available from Nicholas to approved mares only. His offspring have won top prizes in the Hunters, Jumpers, Dressage, And Sport Horse Breeding...here is just a samplingof their success stories:
Soubrette, 2000 5 Year Old Young Jumper Champion for the Entire Eastern U.S.
Startown, Multiple wins and Championships in the Amatuer Owner Jumpers, Including wins at Spruce Meadows, WEF, and HITS
Tabasco, successful in Schooling and Young Jumpers
Toyful, Champion Junior and Children's Hunter
Saison Vincouer, In-Hand Hunter Champion
Cabana Boy, Reserve Champion Colt/Gelding, Top Foal, Atlanta
Whimsical, Multiple DSHB In-Hand wins with scores to 81%
Sterling Royal, Top Ribbons In-Hand and Under Saddle at USDF Competitions
Urielle, Champion Mare Under Saddle at Raleigh, Multiple Breed Show wins, BWP Elite Mare Candidate
Nicholas has won Get of Sire Against well known stallions West Coast, Pikor, Wummerstern, Tantris, Dynamic, Bruderherst, and many more prominant warmblood breeding stallions at several shows throughout the U.S.
His offspring have won the Belgian Warmblood Yearling or Two year Old Futurities in 1996, 1997, 1999, 2000, and 2003, and his foals have been consitantly in the top ten every year. His daughters are always in the top five mares in the U.S.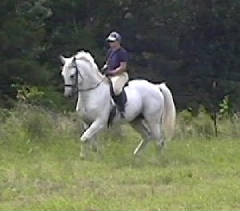 <Trainer Dawn Jensen Riding Nicholas, Summer of 2004
Sterling Royal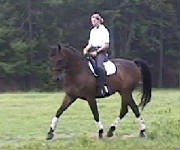 Bronze Lifetime Achievement